SCHOOL LOCATION :
 ARUNACHAL INDIGENOUS MISSION SCHOOL Dumporijo is located in calm and pleasant in Upper Subansiri District and 13 km away from the District headquarters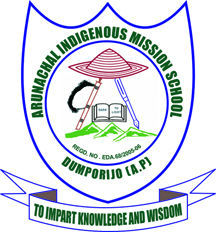 Daporijo, Subansiri Valley border to China. The altitude of the Location is a slightly lower than the District headquarters. So the climate is more pleasant than the township and perfectly suited for an educational Institution. The Location is ideal for a school presenting magnificent scenery and interesting nature of study.
SCHOOL BACKGROUND :
The Arunachal Indigenous Mission School (Residential) Dumporijo is running by Indigenous Mission, Dumporijo circle, Upper Subansiri District, Arunachal Pradesh was established in the year 2000. And AIMS was founded by Mede Hai , the chairman of Indigenous Mission and Tinu Imchen of Mukokchung, Nagaland was first Principal and present principal is Akheto Achumi of Nagaland. Arunachal Indigenous Mission School has Provide the sound and quality Education for this competitive computer generation for both boys and girls. Whose aim is that young boys and girls should learn its portal as man of honour capable of competing with honesty, uprightness and success at any cause and always striving to uphold to the motto of the school "To Impart Knowledge and Wisdom" to unstable pecuniary rural & tribal children and Transform the Community by educational activities and to fulfill educational policy of Government. An AIMS is recognized as pre-primary to primary section Residential School by Director of School Education Govt. of Arunachal Pradesh. The AIMS is inaugurated by Shri Tabang Bodung, APCS. Circle officer Dumporijo on 30th June' 2000.
The Arunachal Indigenous Mission School is in a beauty spot on the Upper Subansiri valley, the eastern Himalaya. It shapes the destiny of countless future generation shall be path of knowledge and wisdom for a better & brighter world in sight.
Contact us

a)  Official Correspondence;

Mede Hai, Chairman
AIMS Dumporijo,
Upper Subansiri District,
Arunachal Pradesh-791 122
Mob: +917628926077/9436054291
Email: drmedehai@gmail.com
b) School Admission correspondence;

Akheto Achumi, Principal
AIMS Dumporijo,
Upper Subansiri District,
Arunachal Pradesh-791 122
Mob: 09436070711, 08132082055
Email: aims.dmj@gmail.com
Categories :
Our Mission
Impart Knowledge & Wisdom to Renovate and Transform Societies